Microwell slides (MWS) comprise densely assembled, regularly arranged glass light guides. There are wells on the end surface of the MWS. Each well is structurally connected to a separate optical fiber, which ensures efficient collection of optical information during chemical reactions on the slide.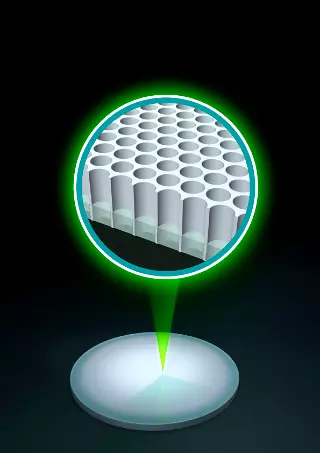 MWSs of various dimensions and configurations with well diameters ranging from 5 to 200 µm can be supplied. The well depth is determined by the thickness of the slide and the customer's requirements.
The MWS consists of a combination of special glasses that provide the optical properties of the slide.
Спецификации
Parameter

Part type

18-6 MWS

25-10 MWS

46-12 MWS

56-15 MWS

70х90 MWS

Value

min

max

min

max

min

max

min

max

min

max

1 Geometrics

1.1 Outer dimensions, mm

Ø24.75

Ø24.85

Ø32.75

Ø32.85

Ø45.7

Ø46.0

Ø55.8

Ø56.0

69.80х89.65

70.00х90.00

1.2 Thickness, mm

0.285

0.315

0.385

0.415

0.46

0.50

0.75

0.80

0.9

1.1

1.3 Active area dimensions, mm

Ø18.6

–

Ø26.0

–

Ø44.0

–

Ø54.0

–

69.80х86

–

1.4 Flatness tolerance of the end surfaces, mm

–

0.03

–

0.05

–

0.075

–

0.075

–

0.075

1.5 Flatness tolerance of the end surfaces, mm

–

0.01

–

0.01

–

0.03

–

0.03

–

0.02

1.6 Solid rim width, mm

1.6

–

1.6

–

–

–

–

–

–

–

1.7 Bevel width, mm

–

0.18

–

0.18

–

0.35

–

0.35

–

0.3

2 Structural parameters

2.1 Well diameter, µm

5.5

6.5

9.5

10.5

11.5

12.5

14.5

15.5

14.5

15.5

2.2 Center-to-center spacing, µm

–

8

12.2

12.9

–

15

–

19

–

19